Who we are
We at Liberty Connect offer reliable private and public cloud services to meet our clients' networking needs. By creating custom-tailored and flexible plans, we deliver the right amount of bandwidth at the right price with world-class service.
Our Network
• Twenty-nine (29) Carrier Class Points of Presence (POP's)
• Over 1,374 fiber route miles with a total of 90,750 fiber miles.
• Many customers in an 18 county footprint in SW MO, SE KS and NE OK.
• Direct connectivity into Regional Data Centers
• Connectivity to other network providers via E-NNI's
• MPLS and DWDM technology deployed primarily utilizing fully redundant equipment.
• Network speeds up to 10Gbps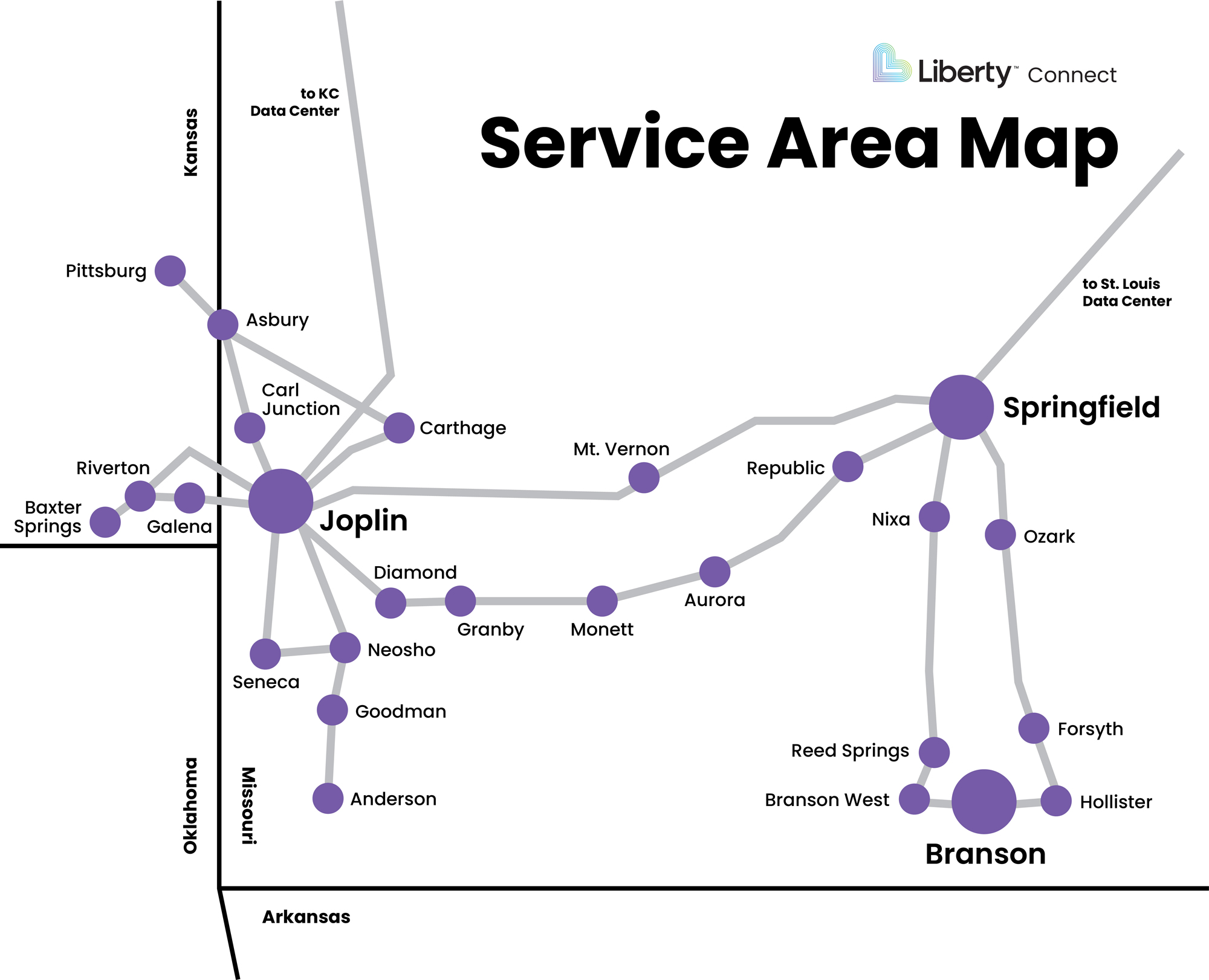 Meshed POP (Points of Presence) Network Design
Diverse paths available between most POP's
Sub 50 millisecond failover between diverse paths
Carrier Grade POP Reliability
Battery/Generator backup at POP locations
POP's are designed with diverse fiber to minimize outages
Internet Connection Diversity
Diverse Tier 1 & 2 providers at Internet POP's
Reroute capability between Internet POP's
High Capacity
Multiple high capacity circuit design prevents oversubscription in core
A Brief History
In 1909, Henry L. Doherty & Company began purchasing power companies in southwest Missouri and southeast Kansas:

Consolidated Light, Power, and Ice Company in Carterville, Webb City & Joplin
Galena Light & Power Company
Joplin Light, Power and Water Company
These companies merged together and formed The Empire District Electric Company. The name refers to the financial support received from financiers in New York, known as the Empire State.

The original Charter of The Empire District Electric Company was filed with the Charter Board of the State of Kansas on October 16, 1909.
Empire Water Company was created in 1926 when Empire purchased the Lawrence County Water, Light, and Cold Storage Company. Currently we meet the water needs of customers in Aurora, Marionville, and Verona, Missouri.
In 1996, Empire District Industries was formed and started provided fiber connectivity to customers.
In 2006 Empire acquired a natural gas company, creating the Empire District Gas (EDG) Company. EDG serves the natural gas needs of customers in 45 communities in northwest, north central, and west central Missouri.
On January 3, 2017 Empire District joined the Liberty Utilities family.
On September 25, 2018, "Liberty Connect" became the name under which the fiber business formerly known as Empire District Industries/Empire Connect will operate.
Liberty Connect provides fiber optic services and is an affiliate of Liberty Utilities, but Liberty Connect is not regulated by the Missouri Public Service Commission. Liberty Utilities' regulated services are not tied to the use of an affiliate provider. Other fiber optic service providers may be available.